Posted: Friday, October 21, 2022
As the nights draw in there's a tendency to want to spend more time cosying up at home in front of the fire. A fireplace is a great focal point and a fireplace surround completes it by framing this addition to your room whilst adding an element of decorative charm.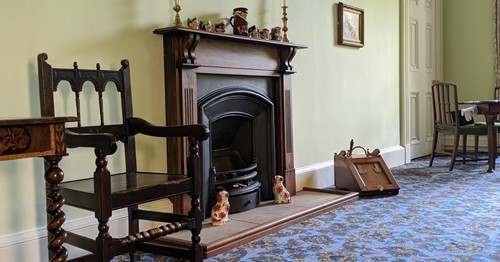 The Benefits Of A Wooden Fireplace Surround
A fireplace brings warmth and character to a room as a striking visual centrepiece and naturally, it's also an excellent source of heat. But it's not just the fireplace itself that makes it so special - the surround can be just as important.
Every wooden fireplace surround from Carron is a beautiful and natural piece. They are available in many different sizes, tones and designs, offering great versatility, so you can find one that will fit well with the style of your room, as well as one that complements your fireplace. Carron fire surrounds are easy to assemble and fit, coming either as a single piece or a few parts.
Whichever fireplace or multi-fuel stove you choose, a fire surround adds the finishing touch, providing a decorative and functional framing. Autumn is synonymous with woody tones, with that in mind, let's look at some of our wooden fireplace surrounds.
A Selection Of Wooden Fireplace Surrounds From Carron
Taking its name from the New England state known for its expanses of woodlands, the Vermont Wooden Fireplace Surround is a simple fireplace surround, which features a recessed design. The dark lacquer finish of this fireplace surround brings out the detail in the grain of the Acacia Wood.
The New York Wooden Fireplace Surround is characterised by its unique design that sees the shelf extend slightly beyond the width of its legs. With its distressed finish, this fireplace surround would be equally at home in a city loft apartment with an industrial feel, as it would in the rural setting of a country cottage.
Traditionally, corbels are decorative brackets that can be found in the architecture of historical medieval and Renaissance buildings, in the form of elaborately carved cornices. On a fireplace surround, decorative corbels create an immediate and powerful visual focus. If you'd like to welcome this into your home, the Edinburgh Corbel Wooden Fireplace Surround might be an option you'd like to consider.
The elaborate leaf-like corbels, beading and plinths come together to present a Victorian-style piece, which is full of depth. This model is available in either Oak or Pine, and either option can be supplied waxed or unwaxed. The styling of this surround will perfectly complement a wide range of Cast Iron Fireplace Inserts, of which you'll find many fine examples from Carron.
Contact Us
You can view our complete range of Wooden Fireplace Surrounds on our website. If you've yet to buy a fireplace, you can view our entire collection of Cast Iron Combination Fireplaces here. To find out more about our other products, such as radiators and stoves please get in touch with us. Or feel free to call us on 01400 263319 or email our team at sales@carronheating.co.uk
< Back To Blog