Posted: Friday, July 22, 2022
At Carron, we pride ourselves on our high-quality Cast Iron Fireplaces. Once you've chosen the perfect Cast Iron Fireplace for your home from us, you'll probably be looking to add to the elegance of the centrepiece of your room by complementing it with Cast Iron Fireplace Tiles. As most of our Cast Iron Fireplaces come in metallic shades of black and grey, (the Toulouse Cast Iron Combination Fireplace being an exception), our fireplace tiles add a splash of colour and allow for a level of personalisation. From simple plain colours to a range of ornate designs with decorative features, we'll have a style of tile that enhances the visual aspect of your fireplace by adding some extra panache.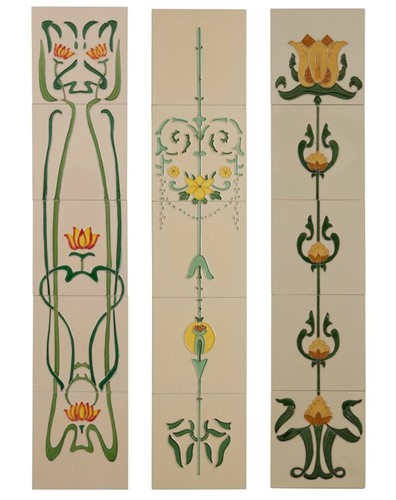 Our Range of Cast Iron Fireplace Tiles
If you'd like a simple, understated and uncomplicated look, the obvious choice would be our range of plain tiles. Having a glaze that is characteristically and individually uneven, their single colour design means that they fit in easily with the existing décor in your room. We offer these in a range of seven colours from Plain Bone to Dark Purple.
Decorative fireplace tiles really gained popularity in the late 19th century. Their appeal is timeless, as they are enjoyed as much in modern times as they were then. If you're a fan of these, then you're well catered for at Carron.
Each side of the fireplace takes five tiles, so you can choose from buying a set of individual tiles that each sit atop each other, (so the design is repeated), or take the option of having a five-tile strip set for each side of the fireplace, that when put together, make a single design.
An example of individual tiles is our Set of 10 Blue Flower on Cream Tiles, taking inspiration from the Art Deco movement. This symmetrical tile features two flowers bending towards each other, forming a chalice-like shape, each with a dropped petal at the bottom of the tile, suggestive of a heart. This elegant design of fireplace tiles is truly an embodiment of the nostalgic romanticism of Art Deco.
One alternative if you are choosing individual tiles is the Set of 10 Rust Flower on Black Tiles. With autumnal shades of ochres and greens, these fireplace tiles would fit well in a room that already has earthy colours. Due to its asymmetric design, you can fit it in a number of rotation options, offering further personalisation.
The most decorative of our strip sets is the Set of 10 Strip Bird And Flowers Tiles. This set features a vase of flowers in light colours with a bluebird hovering above, set against a dark background.
All our fireplace tiles are hand-made, and so by that very nature, there will be some characteristic shade variations from tile to tile. As all of our tiles are ceramic, they'll withstand the rigours of the high heat that comes from a Cast Iron Fireplace. Our confidence in their durability is reflected in our 5-year guarantee.
Contact Us
You can view our complete range of Cast Iron Fireplace Tiles here. To find out more about our other products, such as radiators and stoves please get in touch with us. Or feel free to call us on 01400 263319 or email us at sales@carronheating.co.uk
< Back To Blog