Posted: Wednesday, June 15, 2022
There are numerous benefits to upgrading your heating system with a classic cast iron radiator from Carron. Aside from the energy-saving level of heat output, one of the best aspects of our models is the distinctive character that they add to any space. The traditional aesthetic is widely adored, but you can still customise your purchase to suit your own personal style. Your radiator can be finished from a selection of over 10,000 colours, but how do you possibly choose? 
Take a look at the top Farrow & Ball paint colours below for some inspiration.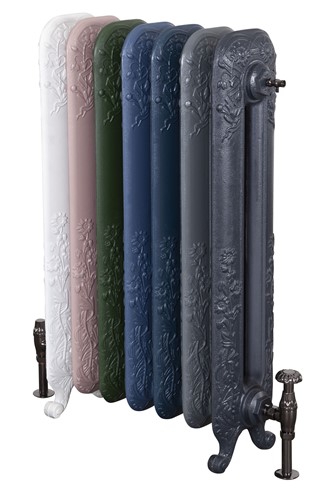 Top Farrow & Ball Paint Colours
Stiffkey Blue
Looking for a touch of modern drama? Stiffkey Blue offers just that. It gets its namesake from the inky blue colours of a Norfolk beach. You can't help but smile when you see such a rich, calming blue.
Sulking Room Pink
This powdery blush tone is a surprisingly versatile offering in terms of Farrow & Ball paint colours, often paired with whites but can easily work well alongside complementary dark shades as well. It's a great choice for adding gentle warmth to an otherwise cold space.
Downpipe
If intense colour combinations aren't for you, contrast your lighter hues with this dark industrial grey. It makes a statement without being too intense.
Hague Blue
This is our 2nd of 3 blues in the top 10 and this one makes a great accent colour, while its green undertones add a degree of warmth. When used in just the right way, it can make a room feel very luxurious.
Duck Green
One of the newer Farrow & Ball paint colours, Duck Green takes inspiration from nature and is often used to highlight period features in older properties. If you're trying to create a sense of intimacy, this chic, earthy green works well.
Railings
The last of our blues is certainly the most intense of the 3. This very deep hue is considered a fantastic alternative to black and is especially well-suited to ironwork. It's a perfect choice if you're looking for a statement accent colour.
Skimming Stone
Our final colour is a calming off-white that oozes versatility and sophistication. Underlying shades of lilac injects a touch of warmth and bright colours really pop when paired with Skimming Stone.
Why You Should Choose A Radiator From Carron
Above is just a selection of the Farrow & Ball paint colours on offer at Carron. Our handbuilt cast iron radiators already boast personality and charm but with our bespoke finishing options, you can take personalisation to the next level. From pastels to metallics, your shade is out there and our specialist finishes bring your radiator to life.
When you choose a radiator from Carron, you choose quality craftsmanship. Our skilled and experienced technicians build reliably, adhering to traditional design while maintaining modern standards for a perfect balance of authentic style and contemporary practicality. Each of our models comes with a lifetime guarantee, so you can be sure that your purchase has been finished to the highest standard. 
Browse our full range of cast iron radiators here and be sure to get in touch if you have any questions or enquiries. You can call our friendly team on 01400 263 319 or send an email to sales@carronheating.co.uk and we'll get back to you as soon as we can.
< Back To Blog