Posted: Friday, August 19, 2022
At Carron, we pride ourselves on our range of Cast Iron Column Radiators. They are made via a process that combines traditional methods with modern techniques. A CAD drawing is taken and the image is transformed into a precision CNC mould, which is then pressed into a sand box. Then, the pressing is filled with smelting pig-iron (or iron ore) to make sections. These sections are then joined together using connectors and gaskets.
Hot water then flows around the columns to heat them up, warming your chosen space. Columns define the depth of the radiator, and the sections define the length. Carron offers column radiators from 1 column to 9 columns (which vary from model to model) and from 1 to 30 sections in length.
Column radiators truly are beautiful works of engineering and design.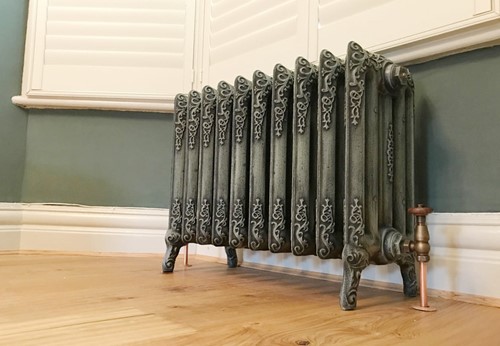 Fittings That FunctionThe Evolution of The Column Radiator
Central heating itself has its origins in Ancient Rome and Ancient Greece, where these innovative civilisations used fires in open space below floors to heat the rooms above with hot air. It was centuries later before humans once again harnessed the power of central heating, a major innovation being the Cast Iron Radiator, patents for this being filed for in 1841 by American Joseph Nason.
Column Radiators In Victorian Times
This type of radiator first became popular in Victorian times (1820 - 1914). During this period, radiators took on new life as decorative objects within the home, as well being an efficient way to warm formerly draughty spaces. Since then, they have continued to be seen as ways to enhance the look and style of a room. The artistic movement of each era they have existed in has been reflected in their design throughout the ages. Given that, we'd like to introduce you to some of our most popular column radiators, which have been designed with these periods in mind.
Styles similar to our Rococo 3 Column Cast Iron Radiator were among some of the first decorative Cast Iron Radiators ever produced. Originally made in France in the 1890s, these column radiators typically featured intricate scrolling decorations with scalloped details, much like our own. This level of detail shows just how much designers embraced more ornate radiators at this time. These radiators are typical of the decorative ornamentation of the Art Nouveau movement and they are still beautiful to this day.
A Look At An Edwardian Design
'Elegance' is the key word when it comes to Edwardian (1901 - 1914) interior décor, and the Rathmell 2 Column Cast Iron Radiators typify this. This column radiator features a curved top and crisp lines. Its feet are seamlessly incorporated and delicately shaped with an inner arch. These combine to give this radiator a slightly more contemporary feel than the traditional 2 column Victorian model.
The 20th Century And Beyond
Fast forward forty years to the 1930s and Art Deco was all the rage. This art movement is reflected in our Deco Cast Iron Radiators. This statuesque style of radiator has single flat columns, each adorned with sparingly used studded detailing on each column face and two studs on the side, one at the bottom and one at the top. Trends come and go and a few decades later, industrial art became popular.
Industrial art is a form of modern art that often use parts of machines, typically made of metal, to create pieces. One example of more modern column radiators would be the Duchess 4 Column Cast Iron Radiator. With its low profile and chunky, cuboid looks, this column radiator could be interpreted as a piece of industrial art in itself.
Customise Your Column Radiator
With our onsite paint facilities at our Lincolnshire-based factory, we can finish any column radiator with a choice of over 10,000 colours, including Farrow & Ball, Little Greene, Cromadex and any colours contained in the RAL colour matching system.
Unique to us is the Carron Colour Range, which features 13 of our most popular colours. Or choose from one many Roberson Liquid Metal finishes, running a range of shades across Bronze, Silver and Gold tones. We also offer an expert colour matching service to attain even greater levels of customisation. With this service, we can finish your column radiator to get exactly the right colour for you.
Contact Us
You can view our complete range of Cast Iron Radiators here. At Carron, we're here to create bespoke radiators especially for you, so if you have any questions please get in touch with us. Or feel free to call us on 01400 263319, or email us at sales@carronheating.co.uk
< Back To Blog